SOL SERUM
Regular price

Sale price

$42.00
FREE shipping on orders $75+
---
SOL SERUM |  intensive face oil   30ml | 1floz
Have you absorbed too much love from the sun?  Overexposure causes premature aging of the skin including sun spots, wrinkles, & more.  Sol Serum is an intensive plant powered solution to help rejuvenate skin allowing your internal glow to show. SUN WORSHIPPERS UNITE!
TO USE: Best if used in the evening after cleansing. Massage a few drop into face & neck. ALWAYS wear sunscreen.

INGREDIENTS:  Vitis vinifera (grapeseed) oil, Argania Spinosa (argan) oil, Ribes nigrum (black currant seed) oil, Punica granatum (pomegranate) oil, Rosa Canina (rosehip*) oil, Lavandula officinalis (lavender) oil, Boswellia serrata (frankincense) oil, Cymbopogon flexuosus (lemongrass) oil, Daucus carota (carrot) seed oil, & tocopheryl (vitamin e). 
**Ingredient list may change from time to time. Always look to product label for the most up-to-date ingredients list.
---
Share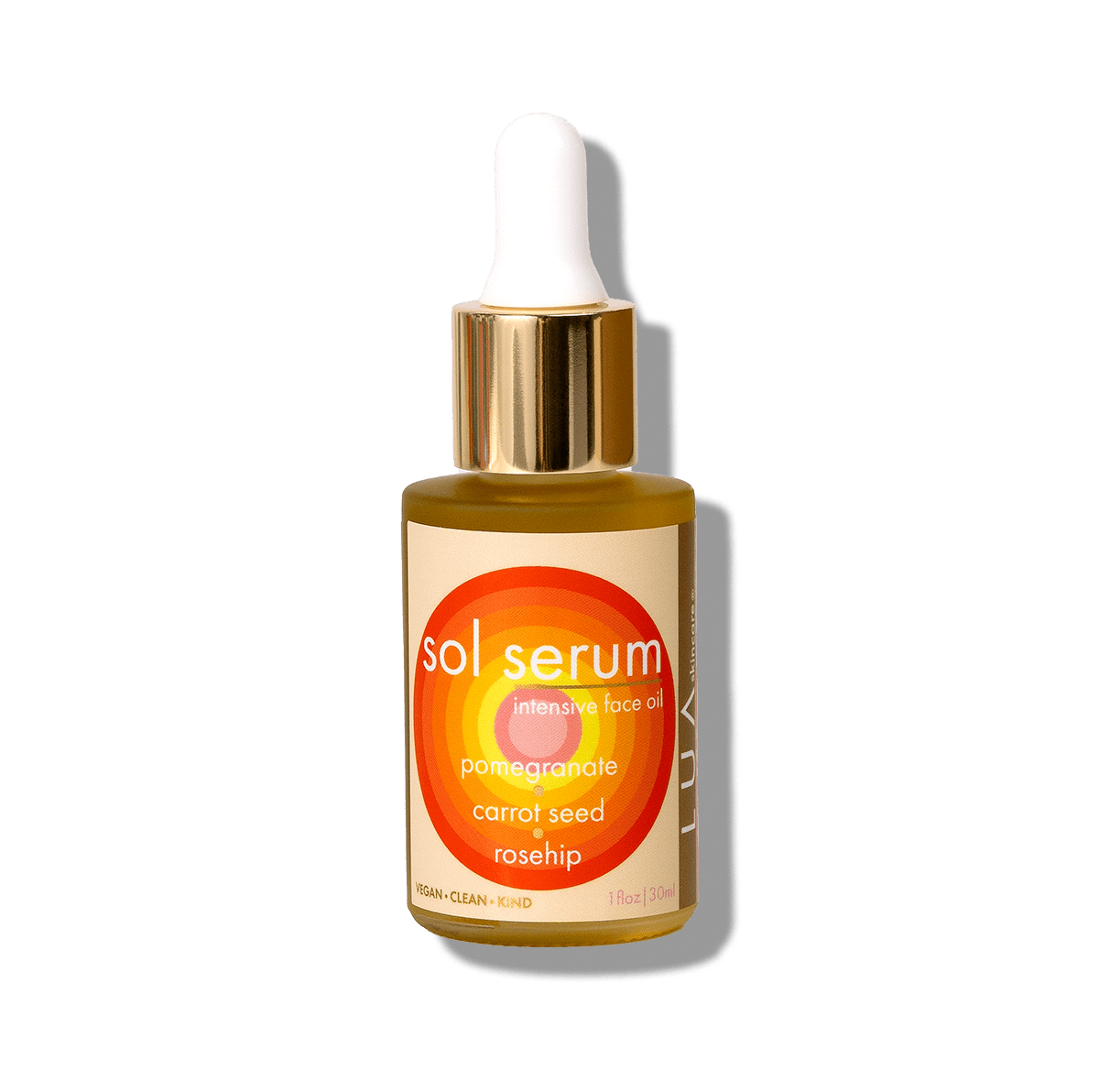 Love, Love Love!
I am a post menopausal gal that has super dry skin especially this winter as its been so cold! My sister recommended these products to me. I did some research and decided to give the products a try. My skin is no longer dry and flakey! WOW! I hope as I continue to use the Sol Serum that some of my darker face spots will fade. My skin feels amazing and looks vibrant! I have purchased the whole line and absolutely love it!
Awesome! So happy to hear Sol Serum is working for you! :) Lua
Game Changer!
I've been using the Ageless oil and love it, but started using the Sol Serum and can see MAJOR improvements in my skin almost immediately. This combo with the eye beam have been doing wonders on the texture and vibrancy of my skin. I'm now obsessed!
Wahoo! So happy for you! Thank you xo Lua
Love it.
I love this product! My first time using the Sol-Serum but I have tried the age-less and the eye roller in the past. My expectations are exceeded, the smell is wonderful and my skin feels amazing. I bought this because I felt like my skin had changed postpartum and I wanted to address some of the dark spots I developed. I have noticed a brightening of my complexion, so I feel like it's doing exactly what I wanted.
Awesome! so happy it is working for you!! xoLua
Sol Serum
I just went to get a facial and the esthetician asked me what I did to my skin to keep it so healthy. It's Sol Serum from Lua. Honestly, this product is amazing!!! I love the way it feels on my skin. I wake up looking fresh.
YAY! Love that your skin is staying healthy and bright! xo LUA
Wonderful
I love the smell and feeling of this serum!
Thanks so much for choosing us! xoxo LUA
First of all, THE BOTTLE ART; a mini retro sunshine sculpture that pops in my washroom! Im from Canada where I run in freezing winds with no sunscreen(sorry) but I read that carrot seed oil has a natural spf factor of 4..this stuff not only protects in the AM, but feels equally as indulgent after a good scrub in the PM. Plus it smells like a freshly pressed carrot/orange/ginger juice! 🥕🍊🍹👐
YAY! thats why we created SOL SERUM...art meets skincare meets great scents. Thanks so much for choosing to use LUA!! xoxo
Would Definitely Recommend!
This is a very light, yet very moisturizing face oil. My skin just soaks it up. At night I use this as an all-over (a few drops mixed into my moisturizer) and the eye oil around my eyes. When I wake up my skin still feels moisturized! Which says a lot living in Phoenix - the dry air pretty much zaps any moisture from your skin. I love this product!
We appreciate the LOVE! Thank you for putting us in your skincare ritual:) xo LUA