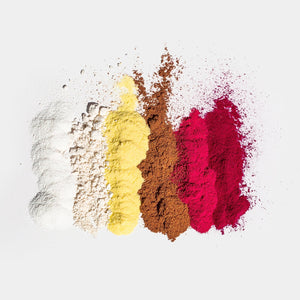 Gentle yet effective
I love the glow dust. I use it a few times a week on my face brush. It's gentle but provides great exfoliation. Smells great too.
We love being glowy and love that you love being glowy too! :) xoLua
Don't hesitate
This glow dust is true to its title. It's exfoliating properties helps to clean your face while regenerating and giving your skin the glow it deserves.. all without harsh chemicals that have your skin dry and cracked
My face was GLOWING after using it two times 😁
I cant wait to see what my face looks like long-term😳
Awesome! Keep on Glowing!! xoxoLUA
Best exfoliant ever! LOVING my skin.
This is by far the best exfoliant I've ever tried - and I've tried a good amount. It's gentle, yet tough on the dirt that's usually hard to reach within your pores. My combination oily and sensitive skin is loving this product! It works particularly well at clearing out impurities from my nose - even better than those nose strips! Will definitely be purchasing again.
Awesome! Happy to hear it is really working for you. Its one of our favorite products. Thanks so much for choosing us :) xoLUA
Gentle exfoliation
Love all my other Lua products and this one does not disappoint - leaves my skin feeling refreshed and clean without stripping it dry. It also smells amazing!!!!
Glad to hear you are glowing! Thanks for choosing LUA xoxo
Lovely
I can read the ingredients and it's wonderful! X
Our goal is to create simple and clean skincare with no surprise ingredients. All natural, skincare you can trust. Thank you for choosing us! xo Lua
---