SWEET TOBACCO perfume oil
Regular price

Sale price

$30.00
FREE shipping on orders $75+
---
Earthy tobacco combined with warm & sweet vanilla will take you back to carefree times of eating warm cookies inside quilt castles while grandpa smokes his evening pipe on the front porch.
scent profile: earthy tobacco rounded out with warm, slightly sweet vanilla & spice.
INGREDIENTS: Prunus Dulcis (almond) oil, Parfum (paraben, phthalate-free), Styrax Benzoin (benzoin) essential oil, Vetiveria Zizanoides (vetiver) essential oil, & Tocopherol (vitamin e).
10ml glass roll-on bottle with plastic roller + box
---
Share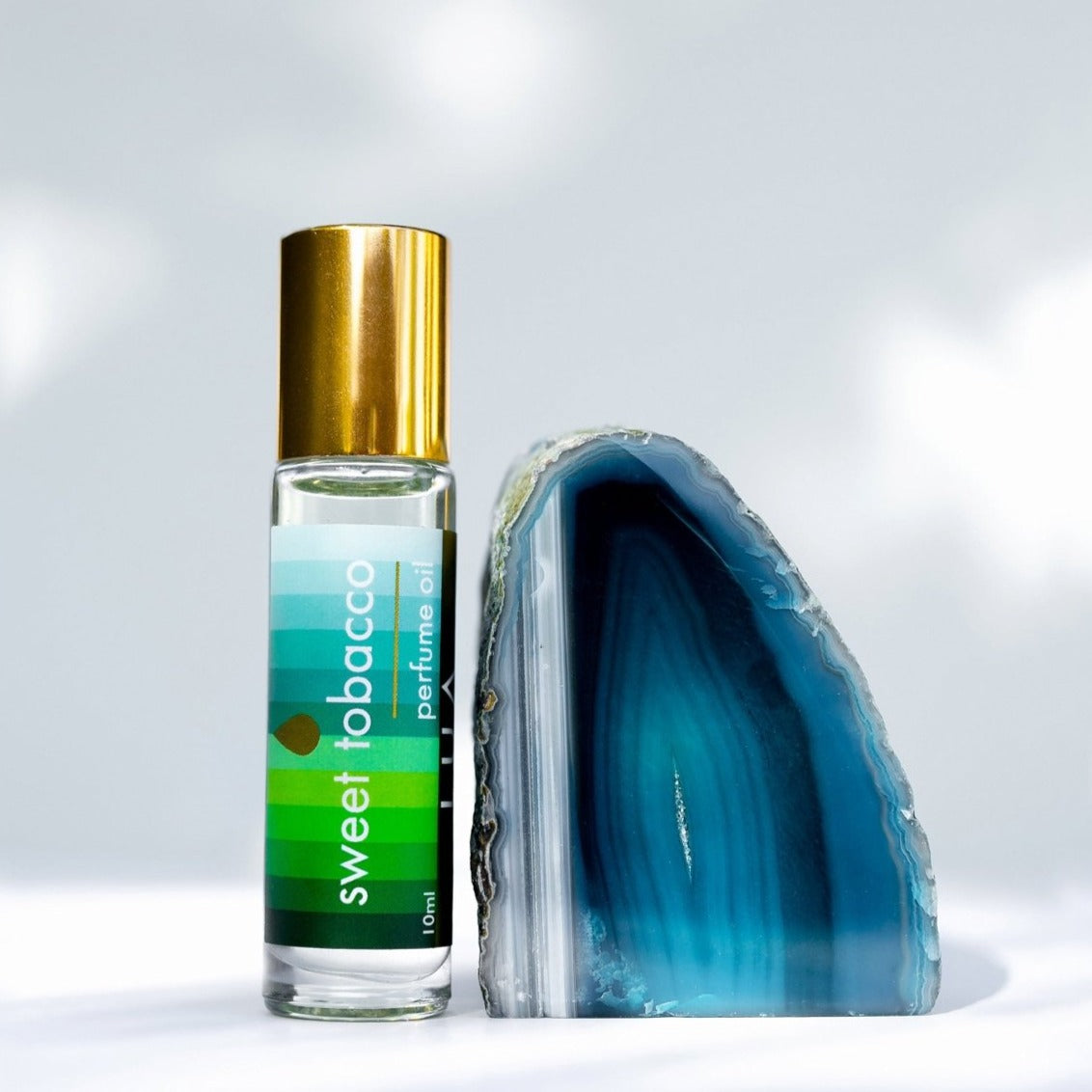 My favorite scent
I love this scent soooo much. I feel good to know that it's not filled with a bunch of toxic chemicals like many perfumes. The scent lasts all day but is not overwhelming.
We will never use toxic chemicals! Happy you are loving our Sweet Tobacco! :) Lua
Sweet and Sexy
I made this my signature fragrance last year and was terribly disappointed when my local shop stopped carrying it. "Sweet and sexy," was I compliment I heard more than once to my scent. Women wanted to smell like me and men just wanted to smell me. Good times, indeed! So happy to see I can purchase this online.
Sweet & Sexy is an amazing compliment! Thank you! xoLua
One of my faves!
I'm obsessed with this perfume! I wish they sold it in larger sizes. It's deliciously aromatic of warm vanilla and spicy cinnamon with some other beautiful earth notes. I'd buy this over and over (which I have)!
Thank you so much for continuing to choose LUA! We appreciate you :) xo LUA
Sweet Tobacco
Hi all,
I made a previous review on PaChampa too! No lie, everyday I wear LUA, and get the most genuine compliments on my scents! People look perplexed as it's a scent that brings them happiness, and ask EVERY TIME "what is that" 😊
I love that halfway through the day, working with a bunch of fellas at Harley-Davidson, randoms still stop and say "is that you?" And smell me!! Lua has the scent dialed in ladies 😉 So Happy.
That's awesome! It's the best when people want to know why you smell so good, bonus is you get to smell yourself all day! Thanks for the LOVE! xo Lua
MY FAVORITE!
All of Lori's perfumes are amazing, but the Sweet Tobacco smells impeccable. The best way to describe it is an open fire with fresh sugar cookies. Seriously, I wear this so often, and get so many compliments, it's taken over all my other perfumes. The scent lasts too! And I'm not constantly reapplying! Maybe one day it'll come in a big perfume spray bottle. Trust me, you need this.
Very nice smell
Smells great, wish the smell lasted as long as the other reviewer said, and the roller ball situation doesn't let a lot of product out so you have to do a lot of rolling to get it applied
Glad you like the scent! Because our products don't have phthalates the scent may not be as powerful as a more chemical based perfume. We want to be as close to nature as possible but never compromising on our clean ingredient, plant powered mission! Thanks so much for trying us out! :)