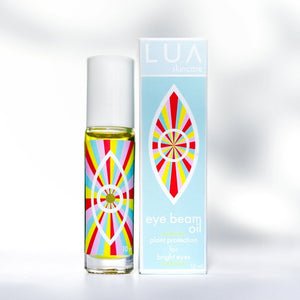 Lovely product
I love the way this product smells! I use this product 2-3 times (or more) per day. It's my favorite little ritual. I feel like it makes my eyes look a little fresher. The only issue I have with the product is that it's a little difficult to get the glass roller ball moving. Otherwise, great product and great company and customer service experience!!
We are glad that you had a great customer service experience...We just want you to be happy! :) Lua
Does wonder on my eyes
I really love this stuff, has such a great smell too 😍
So happy you love it! xo, LUA
Must have!
This product, above all, is the only thing I cannot skip. I use it daily and it helps sooth and moisturize tired eyes (because who am I kidding I'm always tired). I have an extra I keep in the fridge for "puffy eye days" and it's so soothing and provides such a relief! I get comments on how youthful my eyes look and I have to give credit where credit is due. I can thank this product for single-handedly letting me age more gracefully.
Beautiful, radiant skin care
I got this skin care product as a gift and absolutely love it. It rolls on easily and smells delightful. After using it for about 6 months I noticed a beautiful smoothness under my eyes. I came to the site to order more because I loved it so much compared to much more expensive eye care I have used in the past. I highly recommend, especially for the price.
YAY! we always love hearing success stories...Thanks so much for choosing us:) xoLua
Eye Beam Oil
I just started using this so don't really have any comments about the product yet. However, when I try to roll this on, I can't tell if the roller ball is really rolling. The ball seems really tight but maybe I am getting some anyway. I just can't see it on my face.
Hi Janice! sometimes the ball needs to be loosened up a bit to start rolling smoothly. If you continue to have issues please let us know! xoLUA
Favorite product!
I got this in an Onyx box (Sadly no longer exists) a while back and have been in love with it ever since. Not only does it leave my eyes looking refreshed, but it helps my natural eyelashes and eyebrows grow!!! Worth the money! ❤️❤️❤️
Thats awesome! Its a little secret that it does grow your eyelashes...As with anything natural it takes time but worth it! Thanks for the love!! xo LUA
I first bought it in a store. I love it
---