C H I L L oil + stone blend
Regular price

Sale price

$23.00
FREE shipping on orders $75+
---
Need more C H I L L in your life?
Amethyst is known for its calming and meditative properties to help ease anxiety & bring about a sense of well-being + balance.  We combine this crown chakra stone with essential oils such as Lavender + Vetiver + Patchouli + Mandarin & more which also may help evoke LESS STRESS, MORE CHILL.
Part of the evening trio in our Daily Ritual set, this full-size 10 ml CHILL will have you straight chillin. Perfect for meditating, falling asleep, & whenever you need to ease anxiety. 
TO USE:  Roll onto temples, pressure points, feet, behind ears, and/or palms.  Breathe deep for maximum ahhhhhhhhhh. 
C H I L L INGREDIENTS:  grapeseed oil, lavender, vetiver, lemongrass, patchouli,

 
ylang ylang
, bergamot, benzoin, & mandarin essential oils, valerian root, amethyst stones, vitamin e. (+ peace, love, & happiness)
C H I L L  comes in a 10ml roll-on glass bottle
---
Share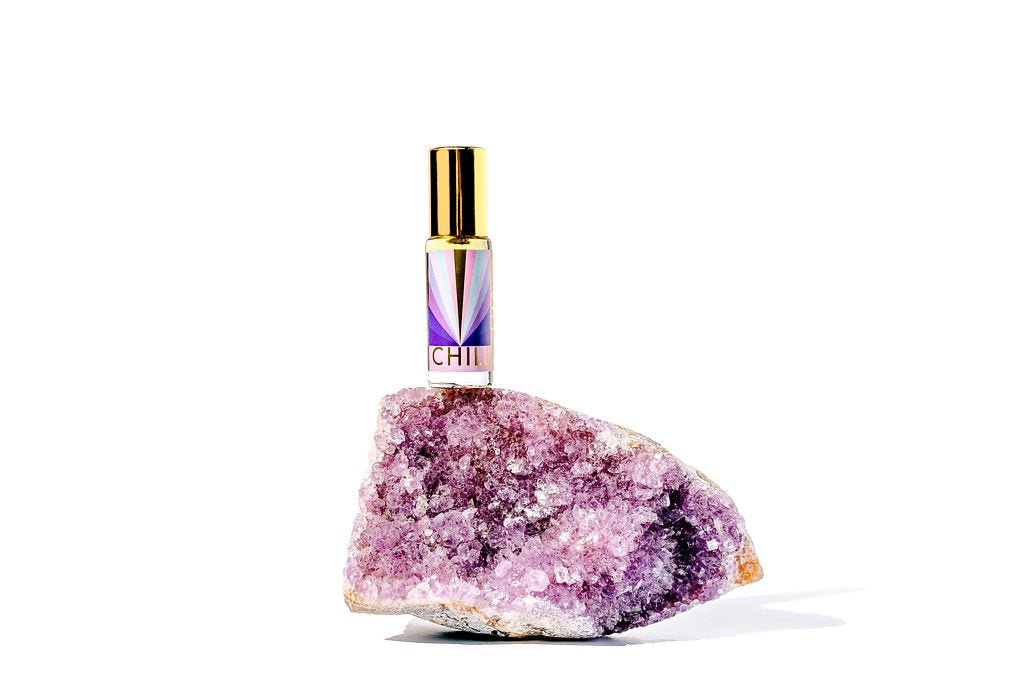 Sleepy oil
I love the scent. It's centering, invigorating and soothing. I mostly use it before bedtime. I have also shared it with my little one who is 9, I call it the sleepy oil. It's helps her on sleepless nights, like a charm.
Aw we love that it helps your kiddo fall asleep, thats amazing! xo Lua
Chill
I can't live without this product! Helps me sleep and relax Love all of the Lua line too!!!!!
Happy to hear you are CHILLIN'! Thanks for all the love! xoxo LUA
BEST scent!
I recently was in the backcountry for nearly 3 weeks. I brought the daily ritual set with me, and I can't even count the number of compliments I received on all of the scents, especially this one. Now I'm going to buy it for all the ladies on the trip as a gift. These oils are the absolute best, I kinda can't live without them. Subtle, organic, soothing, and luxurious. Love!
Glad you took us into the wild with you! Thank you so much for spreading the love, we appreciate you xoxo
Wowwwwieeee
When I first smelled this, I got it in the daily ritual set, the vetiver smacked me right in my olfactory system. To me, this reminds me of camping in the summer time. The smoky campfire mixed with luscious greenery. I love it! The way this puts such a calming and soothing vibe around me is phenomenal. I'm ordering my second one after I write this review because it's that amazing. You need it!
Thank you for your feedback Jess! Glad we could assist in a good olfactory smackdown, Enjoy! :)